Magna Society Elite

Audi Stuart's most prestigious honor pertains to our first full year of operation in 2014, as our team and facility is proud to have achieved Audi's Magna Society Elite distinction. Bestowed upon the nation's top Audi dealerships, Magna Society Elite members serve as the best of the best in representing the Audi brand, exceeding consumer expectations, and adhering to specific sales and service processes. Accomplishing such an honor within the first year of operation places Audi Stuart amongst a distinguished group of Audi dealerships.

J.D. Power Dealer of Excellence Award

Created to recognize dealerships that go above and beyond to serve customers' desires, the J.D. Power Dealer of Excellence award is Audi Stuart's most recently received accolade. To receive this award, dealerships must be just as committed to providing outstanding customer experiences as they are to ensuring a smooth, thorough sales process. Audi Stuart is thrilled to be recognized in this manner for 2019 and 2020, and our focus persists on ensuring our level of service improves even further as we approach 2021.

Audi Magna Society

The Magna Society was created by Audi to recognize dealerships that go above and beyond standard business objectives and sales targets. To qualify for Magna Society status, a dealership must show that they are engaged in sales and service programs and adhere to specific business processes, all while properly representing the Audi brand. The team at Audi Stuart is proud to have been a recipient of this designation for three straight years in 2015, 2016, and 2017.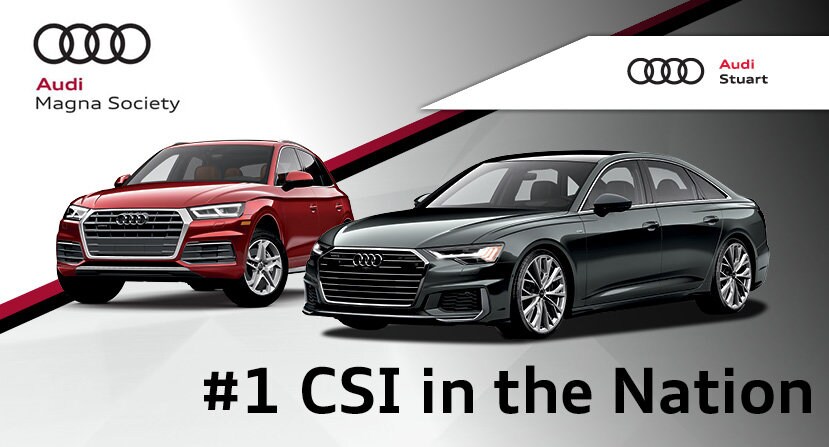 #1 CSI in the Nation
In addition to Magna Society distinctions, Audi Stuart has also held top honors in Customer Service Index (CSI) scores. This award is achieved by placing utmost priority on exceeding customers' expectations and ensuring every need is addressed. Our team is proud to have represented the #1 nationwide CSI position for two years of operation in 2015 and 2017--a stellar achievement.