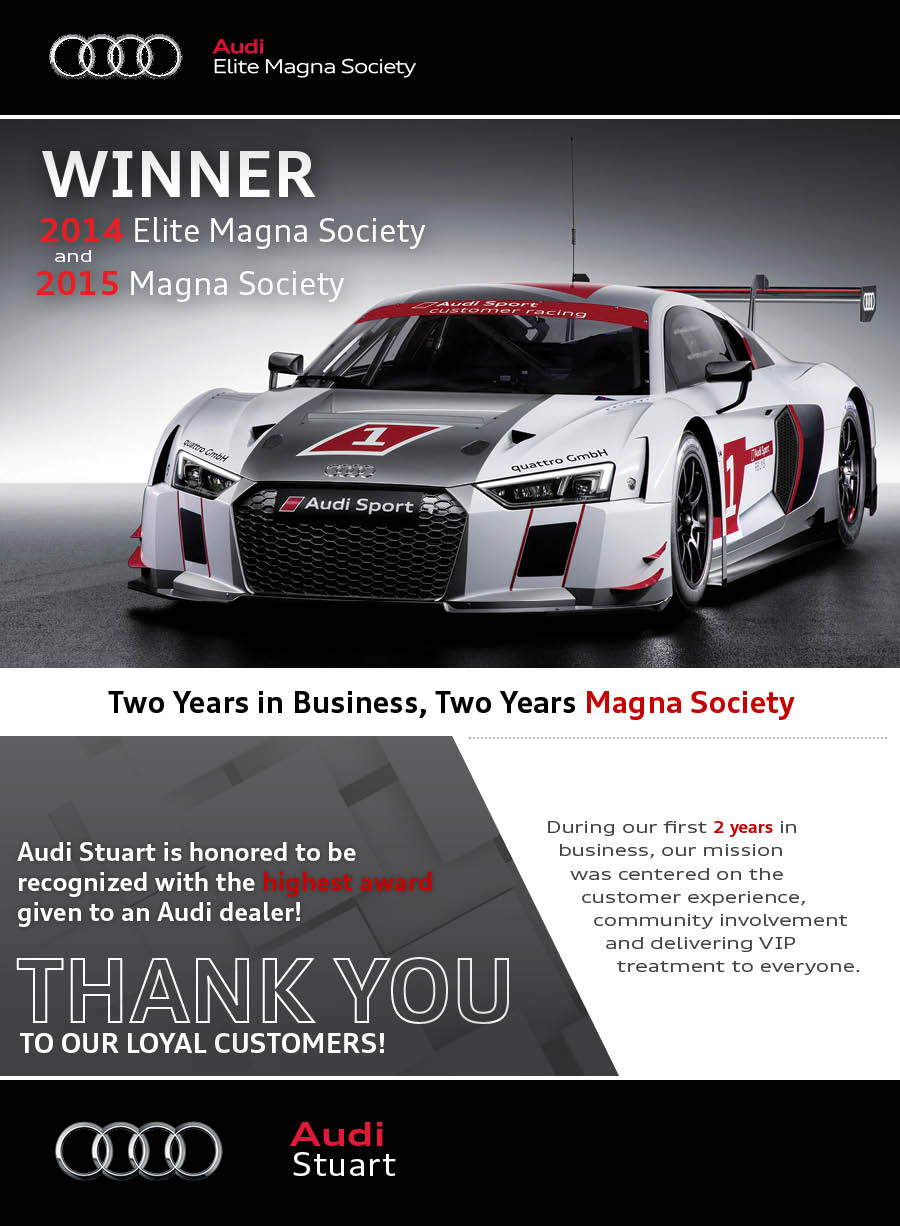 Long wait, quick win for Florida Audi dealer
by Ryan Beene for Automotive News
It took Mario Murgado a decade to get the Audi franchise he dreamed of -- and only one year for his store to rise to the brand's highest echelon of dealerships.

After opening in December 2013, Murgado's Audi Stuart near Florida's Atlantic coast was one of just a dozen dealerships last year to win Audi's Elite Magna Society award, the highest honor bestowed upon Audi dealerships.
It was the equivalent of an NFL expansion team winning the Super Bowl. For Murgado, CEO of Miami-based Brickell Motors, it was a quick payoff on his bet that Stuart, Fla., could hold its own as a luxury market.
Murgado says he had coveted an Audi dealership since 1993, when he sat on the brand's dealer council, representing billionaire Miami dealer Norman Braman's Braman Imports.
During Murgado's final years running Braman's group as CEO, he says, he saw Stuart, on the tony Treasure Coast region of Florida's eastern shore, as a promising opportunity for Audi. Luxury brands such as BMW, Lexus and Mercedes-Benz had locations farther north and south, but not in Stuart. Yet luxury car demand had existed there for years, Murgado said, as Stuart residents often bought BMWs from Braman dealerships in Palm Beach.
"A lot of the dealers that were there never treated the place with the respect that I thought it deserved and never built a top-class facility," Murgado said.
After founding Brickell Motors in 2001, he wrote to Audi asking to add a store in Stuart, but to no avail. He tried again a few years later, but the brand still wasn't interested.
Murgado finally got his wish in the summer of 2011, when Audi's dealer network was growing. He hatched a plan to turn Stuart, about 100 miles north of Brickell's primary dealership cluster in and around Miami, into the group's luxury auto outpost, purchasing 12 acres of land and opening flagship stores for Audi and Infiniti by the end of 2013.
Murgado invested $14.5 million in his Audi dealership, a 31,000-square-foot store based on the brand's Terminal design standard.
Customer service scores are important in Audi's performance metrics, and General Manager Devin Carlson says he wanted to create an experience that was more luxury than just luxury auto.
"We wanted people to come into the door and feel like they were at another high end retail business," he said.
Launch marketing included radio and TV ads, a social media push and events designed to bring well-heeled customers into the dealership, such as hosting the annual leadership dinner of the Martin County Economic Council, a local business leadership group, in the showroom.
The dealership offers a concierge service that provides loaners and picks up and delivers vehicles for servicing up to 20 miles away. Murgado says staffers drummed up fixed operations business by mining registration data for Audi owners and cold-calling customers to offer the concierge service and a free oil change.
Test drives are offered at prospective customers' homes, offices or over a weekend, Murgado says. Customers needing a car wash can pop in for a free one at any time.
Stuart Audi sold 525 new Audis last year.
One key to the early success, Murgado says, was the staff, starting with Carlson, who had been sales director for two Lexus dealerships owned by Jacksonville, Fla.-based Brumos Automotive.
Carlson oversaw the rest of the dealership's hiring and brought in many employees with nonauto backgrounds. His sales team includes a former schoolteacher, a golf pro, business owners, an insurance salesman and a retirement fund manager. No employees were brought from Brickell's other dealerships.
"We wanted to have a culture established here that was unique and created here in this environment," Carlson said, "not brought in from the outside."
Audi's Magna Society program rates dealerships on their performance against goals for sales, customer service, facilities and fixed operations. Ninety-one Audi dealerships won the brand's Magna Society award last year. But only the top 12 received the Elite designation. Carlson says Audi Stuart was one point shy of the highest possible score.
Murgado hopes his performance with Audi will translate into additional luxury stores in Stuart.
He said, "It was important to demonstrate to other manufacturers in the future that we can go anywhere we want and that with the right systems and processes in place, you can be successful."